Episode 27: Podcasting, Free Markets and Politics with Mr.Pseu
Podcast: Play in new window | Download (44.8MB) | Embed
Subscribe: Google Podcasts | Spotify | Email | TuneIn | RSS | More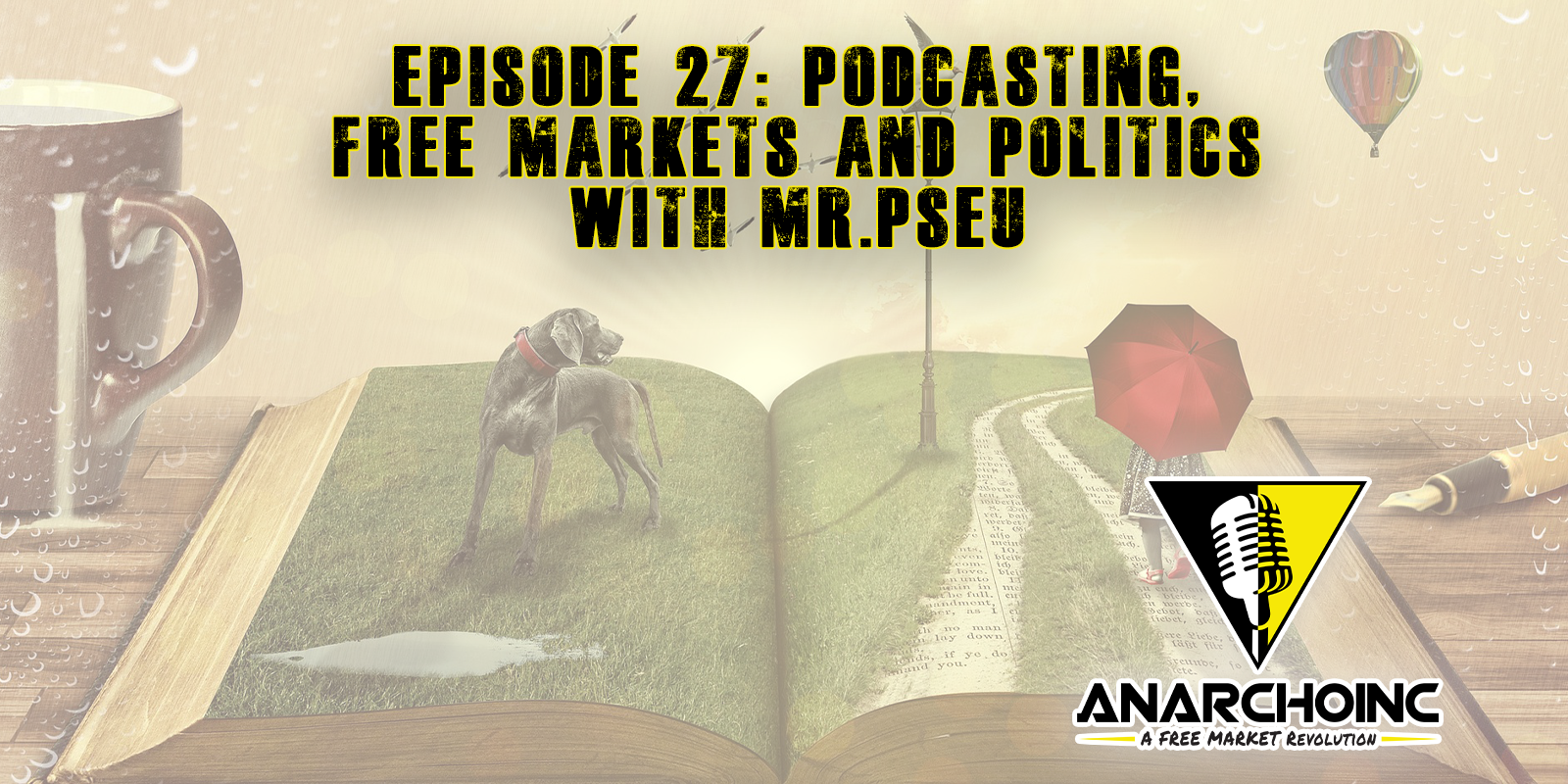 Hello Free Market Lovers. Welcome to episode 27 of AnarchoInc, the podcast talking business and technology in the truly free market. I am your host Jay, reporting to you from my homestead bunker out in the live free or die state of New Hampshire. AnarchoInc is your home for Buds, Brews, Beans, and Bitcoin. AnarchoInc is the owner of AnarchoCBD.com (Buds), AnarchoBeer.com (Brews – coming soon), AnarchoCoffee.com (Beans) and all these businesses supports and believes in the power of cryptocurrency (Bitcoin).
On today's episode, I will be talking to Mr.Pseu from The Pseudollectual Podcast. I get into the who, what, where, why and how Mr.Pseu.
Ladies and gentlemen, an intellectual is a person professionally engaged in mental labor, as a writer or teacher. Well, today we are not a school and he's not your teacher, say hello to Mr.Pseu of the Pseudollectual podcast.
So Pseu, we brought you here today to talk about your new podcast The Pseudollectual Podcast but before we begin let's get to know you.
[INTERVIEW]
Well, I hope you enjoy today's interview and be sure to leave AnarchoInc a review on iTunes and over to AnarchoInc.com/support. There you can find many ways to voluntary support the show including becoming a supporter on Subscribe Star, Bit Backer and or Patreon where if sign up for our ancap tier, you will get
• A thank you at the end of one podcast.
• A personal email from me, your podcast host.
• A shout out on social media.
• A lifetime 15% OFF at AnarchoCoffee.com.
• A lifetime 15% OFF at Liberty Under Attack Publications.
• A FREE copy of the Affiliate Anarchy eBook, where you learn to build your own online smart passive income.
• And an Invitation to the Private Discord Chat Room where we discuss ideas to help promote your business.
Show Note Links:
https://www.facebook.com/Mr.Pseu/
https://open.spotify.com/show/62EoW7qqJPC3WoXi2guUFH
https://friendsagainstgovernment.podbean.com/
Support the show:
https://www.AnarchoCoffee.com
https://www.AnarchoCBD.com
https://www.AnarchoInc.com/Support
Music Credit:
https://www.ashamaluevmusic.com/
---