Episode 23: Liberty and Cryptocurrency in Africa
Podcast: Play in new window | Download (50.0MB) | Embed
Subscribe: Google Podcasts | Spotify | Email | TuneIn | RSS | More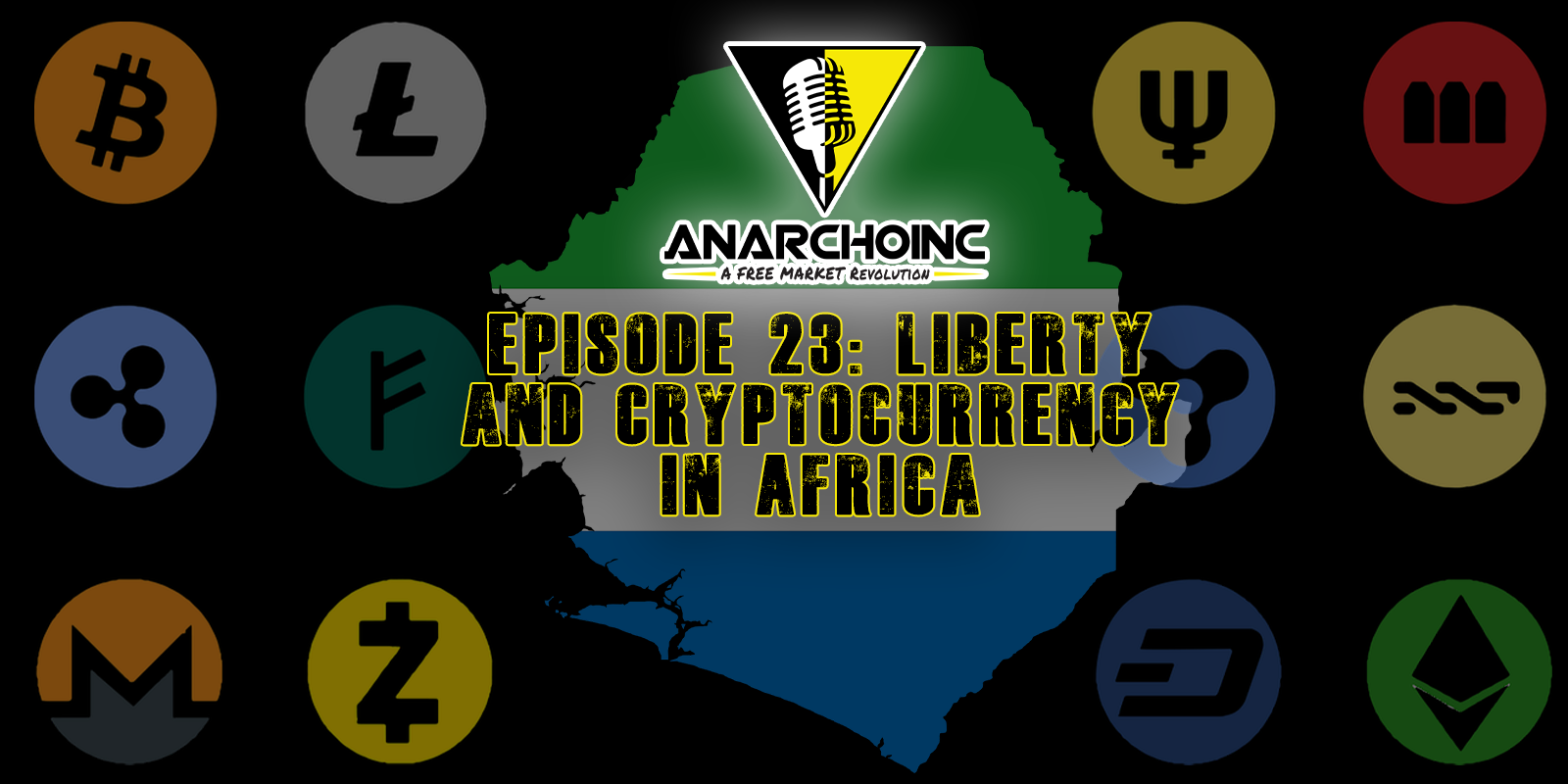 Hello Free Market Lovers and welcome back to another episode of AnarchoInc, this episode 23 and this is the podcast talking business and technology in the truly free market. I am your host Jay, reporting to you from the live free or die state of New Hampshire. AnarchoInc is your home for Buds, Brews, Beans, and Bitcoin. AnarchoInc is the owner of AnarchoCBD.com (Buds), AnarchoBeer.com (Brews – coming soon), AnarchoCoffee.com (Beans) and all these businesses supports and believes in the power of cryptocurrency (Bitcoin).
Today's episode is sponsored by AgoristNexus.com – Join the Agorist Community. Agorism is a libertarian social philosophy that advocates creating a society in which all relations between people are voluntary exchanges by means of counter-economics, thus engaging with aspects of peaceful revolution. So start your peaceful revolution today by visiting AgoristNexus.com
On today's episode, I will be talking to Mustapha Cole, a libertarian entrepreneur from Freetown, Sierra Leone. I get into the who, what, where, why and how with Mustpha. A brief disclaimer about this episode before we jump into the interview:
1. Audio quality is little rough but listenable, as making a connection from halfway around the world can be difficult.
2. This podcast is not an endorsement of any one individual. I open my podcast to anyone I find interesting and has a story. With that said, I hope you enjoy today's interview.
Well, there you have it, folks, another amazing interview on AnarchoInc. I hope you enjoy today's interview and be sure to leave AnarchoInc a review on iTunes and over to AnarchoInc.com/support. There you can find many ways to voluntary support the show including becoming a supporter on Subscribe Star, Bit Backer and or Patreon where if sign up for our ancap tier, you will get
• A thank you at the end of one podcast.
• A personal email from me, your podcast host.
• A shout out on social media.
• A lifetime 15% OFF at AnarchoCoffee.com.
• A lifetime 15% OFF at Liberty Under Attack Publications.
• A FREE copy of the Affiliate Anarchy eBook, where you learn to build your own online smart passive income.
• And an Invitation to the Private Discord Chat Room where we discuss ideas to suffocate the state.
Show Note Links:
https://www.facebook.com/kidscompassioncharity/
https://www.facebook.com/SierraLeoneLibertyGroup/
http://www.coinfest.org/
https://twitter.com/MustaphaCole/status/1118188974269456387
https://twitter.com/MustaphaCole
Support the show:
https://www.AnarchoCoffee.com
https://www.AnarchoCBD.com
https://www.AnarchoInc.com/Support
Music Credit:
https://www.ashamaluevmusic.com/
---